Hardscape Installation
Hard-scapes are the anchor of your Landscape. Whether it is a Belgard Paver Patio, Retaining Wall or Water Feature let our team design and install this most important feature(s) in your yard. Add a Fireplace or Fire-Pit to your patio to create a space for mingling or an outdoor Kitchen for the ultimate in entertaining guest and family. Seat walls and benches can also be created to add extra seating and define your space with a vertical feature. If your living area is scorched by the afternoon sun let's cover it with a Pergola or Roof to maximize your enjoyment of the outdoors. Whatever your needs Legacy Landscaping Inc. can accommodate you.


Why Hire Legacy Landscaping?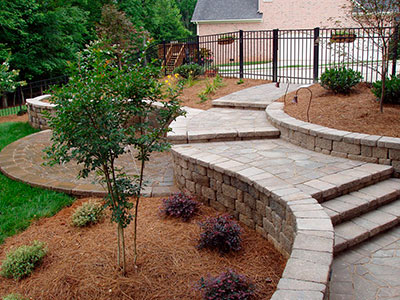 We possess outstanding qualities that make us among North Carolina's most relied-upon hardscape installation contractors. As a matter of company policy, we only hire licensed and experienced crews to work for us. Our installers have worked on numerous projects in the past, which make them highly capable of handling simple to challenging installation tasks. Moreover, we can work on commercial and residential installation projects with equal ease and efficiency. Whether they involve installing a posh patio or creating a paver driveway, you can bank on our versatility to install gorgeous hardscape features.

Meanwhile, our decades of combined experience in the industry allow us to skillfully handle even the most difficult installation jobs. We happen to be one of the most successful hardscape installation companies in Indian Trail and the entire state. So if you want to be assured of stunning hardscape amenities, just hire Legacy Landscaping Inc.


Reliable Partners and Complete Resources
We are proud of our long-standing partnerships with leading hardscape suppliers and manufacturers. We enjoy the trust and support of such industry staples like Belgard, which is why we have unlimited access to top-notch hardscape products. We use only the finest materials for our hardscape installation tasks, so clients are assured of stunning amenities that are functional and durable. The products that we use are available in a wide range of designs, so it's easy for us to achieve the theme or appeal that our clients want. So whether you want a rustic, time-hewn look or you prefer modern appeal instead, rest assured that you'll get the result that you desire.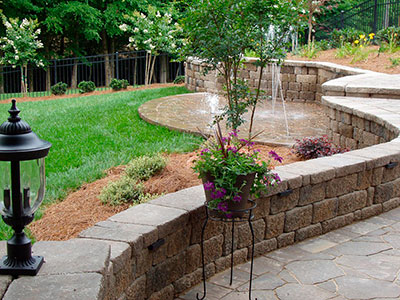 Meanwhile, the resources that we have help us create timeless hardscape features for our clients. Whether it concerns our team of installers, our equipment and tools, or the materials that we use for the hardscape installation projects that we tackle, clients can count on our ability to satisfy their demands. We can handle small projects and we can also complete large and complex installation tasks for residential and commercial properties. We complete them on time and even ahead of schedules.

Legacy Landscaping, Inc. is the most reliable contractor that you can tap to work on your planned landscape improvement project. Unlike other companies that make empty promises and deliver less than stellar results, we provide only outstanding outcomes that can satisfy clients with the most discriminating taste.